David Tennant Stalked by Psychopathic Shakespearean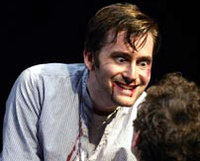 Celebrities collect lunatics like Pokemon, but David Tennant may have just snagged himself the most collectible of all psycho fans.
According to Digital Spy, Doctor Who's Tennat—who is currently working on a production of Hamlet—is being relentlessly stalked by a mystery woman who, when not individually naming each and every one of the thousands of invisible insects crawling all over her body, likes to write sci-fi versions of Shakespeare plays casting Tennant as a futuristic Hamlet, and herself as an extraterrestrial Ophelia. But it gets better.
The kook continuously sends Tennant pornographic pencil drawings of the two of them "getting friendly in the TARDIS." As for her aspirations as a Elizabethan character, the Digital Spy's source sums it up best: "Sadly, the only thing she and Ophelia have in common is their madness. And David is afraid, very afraid."
He should be. But in the mean time, we all win: David Tennant's terror is sci-fi fandom's hilarity!
Tennant Stalker Writes Sci-Fi Hamlet [Digital Spy] (via io9)
Read More