David Lynch & I Hate Cell Phone Movies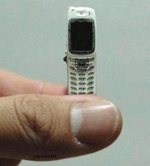 There's a chocolate-consuming philosophy that was introduced by the people at the Reese's Headquarters: There is no wrong way to eat a Reese's Peanut Butter Cup. The same cannot be said for viewing movies.
In the last few years it has become fashionable to treat movies as candy bars as they're being made smaller and smaller, and chopped into bite-size formats. I have acquaintances in the industry who talk about the importance of serving the consumer and providing them with new ways to consume entertainment with their busy schedules.
Frack that.
I don't like watching a movie on my computer. I hate to see a feature film serialized into 8-minute segments (with no real rhyme or reason for chapter breaks). I despise the idea of watching anything on my i-Pod. No filmmaker wants their work to be seen on a cell phone. Hell, even the guy who made Dollman Vs. Demonic Toys expected it would be viewed on a TV screen.
No one cares what I think. But thankfully David Lynch is getting some attention with this video that debunks the iPhone as a cinematic experience.
Read More