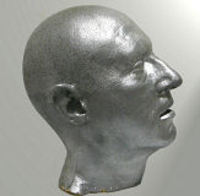 One of the comforting thing about Star Trek collectors is that you can be confident that they aren't putting their acquisitions to any deviant purposes.
For example, take this auction for a silver cast of Data's head. The head is originally from the episode "Time's Arrow," which required a simulacrum of Brent Spiner's noggin to knock off and bury underground for 500 years. If only it had been Wesley Crusher's.
But I digress. The head has been dug out of the old Paramount warehouse and is now up on eBay, with a current bid of $500. But what comforts me is the knowledge that whoever will eventually purchase this will be a true Star Trek fan who simply wants a dead-eyed, motionless Data to stare at him from his mantle (and not just some pervert who intends to bore out the mouth and hook up a vacuum hose through the neck).
For Sale: Data's Head [SF Signal]
Read More