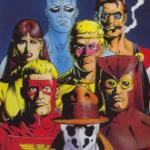 • Learn all about the Cloverfield alternate reality game without actually suffering through playing it by heading to the Cloverfield wiki.
• Who's composing the score for the film version of the comic book Watchmen?
• io9 lists their picks for the greatest car chases in science fiction.
• It's a sad list that begins with Captain Jack Harkness, but AfterElton's top ten list of gay and bisexual science fiction characters is, at least, very specific in its scope. After all, there aren't many characters to choose from.
• Is this the dream T-shirt for millions of 1977 teenagers? It's not mine. I'd prefer a Luke Job.
Read More