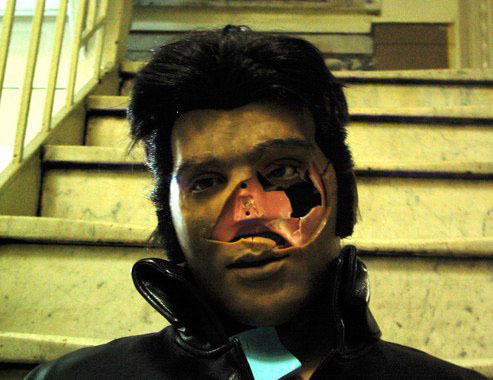 • Clive Thompson argues over at my old haunt Wired that sci-fi is the last bastion of philosophical writing. I disagree entirely.
• Another recently cancelled sci-fi television show gets the Journeyman fan protest treatment: Save The 4400.
• They both have wildly improbably names, but don't mistake Admiral Ackbar: for Barack Obama: The Star Wars Guide to the Presidential Candidates
• Zack Snyder posts some Watchmen storyboards, none of which quite edify me as to exactly how he's going to ruin Alan Moore's classic graphic novel.
• From Boba Fett to Iguana-Riding Sandtroopers: The Many Looks of the Imperial Stormtrooper.
• My vote for the least lucky contest winner ever: Robert Randall Miller, who won a prop sword from Uwe Boll's execrable new Lord of the Rings knock-off, In the Name of the King.
• Everyone loves an interview with The Shat.
• Gently weep at the tragedy of New York City's robo-karaoke Elvis.
• William Hurt has spilled the news that he shares a scene with Robert Downey Jr. (playing Tony Stark) in the new Hulk movie, which essentially means that they are trying to lay the groundwork now for a future Avengers film by making sure cinema-goers know it all takes place in the same universe.
Read More