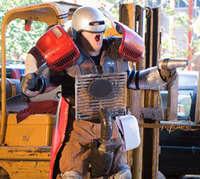 • Orson Scott Card is being recognized by the American Library Association for his "outstanding contribution to writing for teens." Good for him: If anyone deserves it, it's the author of Ender's Game.
• Who better to voice a buxom Amazon Princess than a bony, moon-eyed elfkin like Keri Russell?
• It may prove crappy genre fiction but The Sword-Edged Blonde, a Conan-style epic of heroic fantasy written in the style of Dashiel Hammett and Raymond Chandler sure has piqued my interest.
• Occasional SF Scanner blogger John DeNardo doesn't quite get the hubbub about the Sarah Connor Chronicles. Meanwhile, Hollywood doesn't care what he thinks since the premiere scored the best opening night ratings of any new show in three years. Take that, DeNardo, you bum!
• Crummy Heroes action figures define "fugly."
• Peter Parker and Mary Jane have finally gotten divorced… as usual for comics, through the lamest artifice imaginable.
• io9 looks at "five fan films almost better than the real thing." From their choices, I guess it depends on what you mean by the words "better," "almost," "real," "thing," and especially "films."
Read More