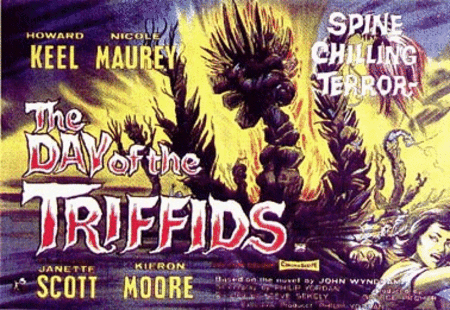 • Slashfilm has a collection of Cloverfield fan art depicting the monster. Most are pretty good; others are just wonderfully inept.
• Harry Potter and the Deathly Hallows might get the Kill Bill treatment: a four hour film split into two for theatrical release. The claim is they can't possibly compress the story into three hours. One suggestion: Leave out the 500 pages of Harry and Hermione in the woods, arguing about what to do next.
• 17 new pictures of the upcoming teleportation flick, Jumper.
• The Save Journeyman by Streaming It campaign seems to be doing remarkably well. Keep at it, drooglings.
• Swamp Thing: The Series slimes its mossy way to DVD. Hey, the show can't be any more unwatchable than the films.
• The Internet Archive is hosting a spectacular 1960s BBC radio serial adaptation of John Wyndham's Day of the Triffids, one of my favorite apocalyptic novels.
• Will Wheaton is pleased to announce that the most loathed character in all of Star Trek history is back. Wesley Crusher is now a Starfleet Engineer: I guess the character's ascension to godhood just didn't work out.
Read More