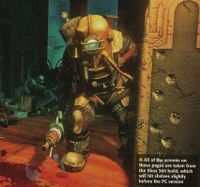 • Even Darth Vader needs a kitchen island.
• Leonard Nimoy has other interests besides science fiction. For example, he loves taking nude photographs of women who weigh upwards of 400 pounds. Even Spock needs a hobby, I guess.
• Great ideas in literature: an Army of Robots Vs. A Constabulary of Zombies. Now that's what I call fine reading.
• Chewbacca: the most ornery temp.
• The phenomenal sub-aqueous, art-deco, Randian sci-fi game Bioshock looks set to get a movie treatment. Let's hope they treat it with half the respect the source deserves.
• Meet Susie Robette, the world's first female robot. She sweeps! She cooks! She dusts! She's over 50 years old!
• Hey! Why not spoil Cloverfield for yourself?
Read More