Coming Soon: Mandrake the Magician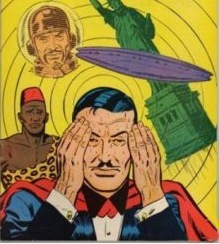 In and of itself, the idea of a modern-day Hollywood adaptation of Mandrake the Magician is eyebrow arching. The reality-bending Mandrake is a campy throwback to the comic strips of the last century, which is fine, but his sidekick Lothar is racial insensitivity at its most awkward. Speaking in pidgin monosyllables and dressed in both a fez and a leopard print loin cloth, Lothar hardly seems like the sort of role that Ving Rhames would be eager to fill.
Still, the project's going forward, presumably with a more politically correct protrayal of Mandrake's right-hand man. Cinematical reports that Jonathan Rhys Meters is set to portray the moustachioed protagonist, while Chuck Russell — director of the execrable Bless the Child and The Scorpion King will direct.
It's a strange property to be adapting, especially because Mandrake wasn't actually capable of bending the laws of space and time. He was a hypnotist–pretty low-key for a super power, after all.
UFC Fighter Randy Couture Joins Mandrake the Magician [Cinematical]
Read More