Cloverfield Rocks Box Office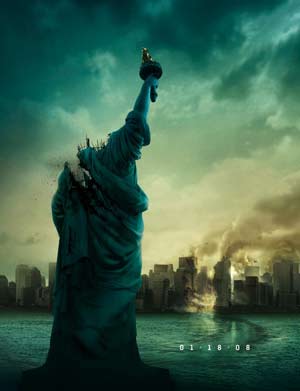 Today, Paramount's CEO Brad Grey is a happy man, as is producer J.J. Abrams. That's because their experiment in low-ish budget horror paid off at the box office this weekend in spades. Cloverfield, which borrows from both Godzilla and The Blair Witch Project , made $41 million dollars since Friday, earning a healthy $16.9 million on its opening day. For a film which cost only $25 million to make (small by Hollywood standards), Cloverfield's a monstrous hit.
And since the holiday weekend is extended by an extra day because of the Martin Luther King holiday, you can expect the film to make over $50 million in total. That should more than cover its marketing budget, which included expensive ads on the TV networks during prime time football playoffs. According to the Los Angeles Times, "Although critics were bullish, Paramount acknowledged that audience
survey responses were weaker than expected in light of the turnout. But
they noted that Blair Witch, a grim tale that also divided viewers,
ultimately grossed five times its opening total–a high box-office
multiple." Of course, Blair Witch had an infinitesimal budget, so the ratio of return will never be as great, even if Cloverfield surpasses the over $248 million which that 1999 movie made worldwide.
Read More