Classic Horror Trailers Hit DVD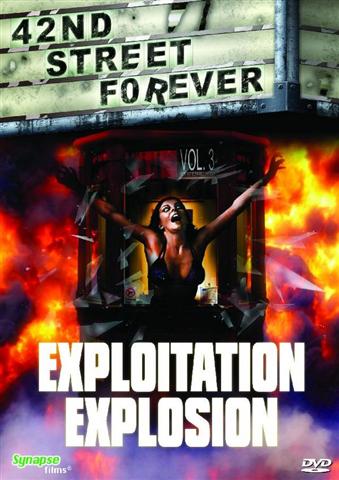 Since this week's Website of the Week is Joe Dante's Trailers From Hell, it's only fitting that one of the top genre DVD releases of the week is a trailer collection, Synapse Films' 42nd Street Forever: Exploitation Explosion. The third in Synapse's ongoing series of DVDs that pay tribute to the days of the grindhouse, the 42nd Street Forever discs collect the top vintage exploitation trailers and present them with quality 16×9 enhanced transfers that make them look better than they ever did back in the day.
Exploitation Explosion also features a knowledgeable commentary track from Fangoria managing editor Michael Gingold (more on him later this week) and exploitation film expert Chris Poggiali. Add to that a list of fun, crazy trailers that includes horror flicks (many not on DVD) like Phase IV , Beyond the Door, Blood Beach, and Killer Fish, along with such exploitation faves as Summer School Teachers and One-Armed Executioner.

42nd Street Forever: Exploitation Explosion is available in most stores. Best Buy offers the first two volumes in a 2-pack deal for $19.98.
Read More