Charlize Theron Goes on The Road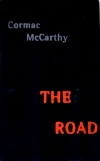 Hollywood has finally discovered Cormac McCarthy, thanks to a bizarre recommendation from Oprah Winfrey and an artful adaptation of No Country for Old Men by the Coen Brothers. We can expect at least two more McCarthy movies in the next two years: Ridley Scott's take on Blood Meridian, and John Hillcoat's version of The Road.
Although the lesser of the two novels, I have the most hope for The Road. Despite two sci-fi masterpieces under his belt, Ridley Scott has worn out his welcome after segueing into a slow-mo obsession and a personal style that drowns out the voice and tone of his sources. But The Road is helmed by a director green enough to venerate the original; the casting director too has made some inspired choices, like Viggo Mortensen as the nameless father who leads his son through the depraved wasteland of America after an unspecified apocalypse.
Now another actor has joined the cast: Charlize Theron as the wife. It's curious casting, if only because the part is near to non-existent in the book: She simply kills herself instead of facing the horrors of a destroyed world. The film could've gotten away with a lesser name for lesser pay. On her part, Theron says she accepted the part simply to be in the movie.
Let's see what she does with her small role: After Monster, it's not hard to imagine her pale face with sunken, sleepless eyes staring hopelessly at a dying world.
Theron Hits The Road [Sci Fi Wire]
Read More