CGI Heath Ledger in Imaginarium?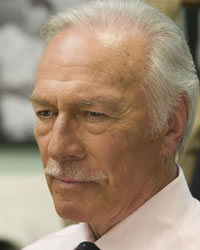 Actor Christopher Plummer, who plays the Doctor in The Imaginarium of Dr. Parnassus, says the movie will go on without Heath Ledger. It was just a few days ago that rumors suggested Johnny Depp was taking over for the young actor who died tragically last week. Since then, it's been discovered that Depp is busy making Public Enemies with Michael Mann. Of the fantastical, creature-filled movie's fate, People says: "Gilliam, whom Plummer describes as 'terribly saddened' by Ledger's death, is "trying to work out at this moment how to continue on. Fortunately, because the film deals with magic, there is a way, perhaps, of turning Heath into other people and then, using stills and I think they call it CGI."
Sure, they can make a CGI Heath, but how can they re-create his words and his remarkable acting? And a side note: Plummer thinks Ledger contracted walking pneumonia during the London shoot "because we were shooting outside on horrible, damp nights." He says Ledger was taking a lot of pills to help him sleep.
Read More