CE3K: Three Versions, One Evolving Vision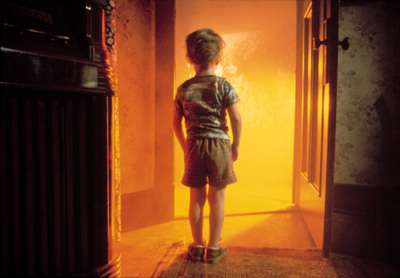 Tonight AMC is airing one of the biggest science-fiction blockbusters of the 1970s: Close Encounters of the Third Kind. You might not know it but CE3K was one of the first films to get a theatrical re-release with a Special Edition. In a time before DVDs, it was a great way for Columbia to make more money on a film that had become a phenomenon.
That Special Edition includes an entirely new sequence (shot especially for the new release) extending the finale. This time around, we see the interior of the Mothership as Roy Neary (Richard Dreyfuss) enters its massive hull. The Special Edition also includes a scene in the Gobi Desert where an enormous battleship inexplicably appears, hundreds of miles from the sea. Plus there are a number of extended scenes (including Lacombe's seminar and Roy's construction of the Devil's Tower).
Recently, Steven Spielberg edited a Director's Cut of the movie entitled "The Penultimate Edition." Either he doesn't know the meaning of the word, or he's planning a fourth version, too. This latest cut removes the sequence inside the Mothership which Spielberg believes is better left to the imagination. More time is spent instead showing Neary's reluctance to leave his family. For once in a Spielberg film, children are portrayed as a heavy burden and responsibility. The director admits that his views on family have changed since 1977.
For more insight into the movie, check out our interview with CE3K actor Bob Balaban.
Tune in tonight at 8 p.m. | 7C and see which of the three versions AMC is broadcasting.
Read More