C3PO Leggings for Fashionable Fembots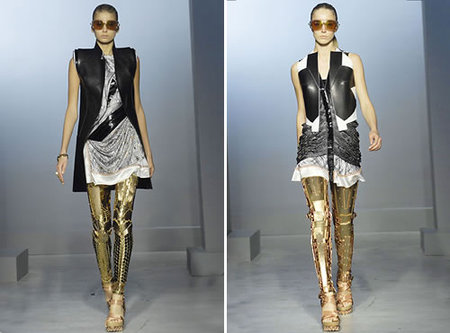 In the world of fashion, everyone dresses like cyborgs and pleasure models. Unfortunately, the robots of the catwalk rarely prance down and march through our streets, and I remain stuck in a world of sweltering hogs flabbily crammed into blue jeans. But as implausible and impractical as fashion might be, I still can't get enough of scifi-themed clothing like this set of C-3PO leggings by French designer Nicolas Ghesquière of the house of Balenciaga.
"I was thinking of robotic articulation. Car parts. Droids. A boyish silhouette…" said Nicolas Ghesquière before he was dragged off to sort out a last-minute glitch. Moments later, his incredible futuristic vision was out of the gate: elongated black jackets with a double-layered shoulder line; cyber-goddess dresses jigsawed from patent leather; space-crew shirts with high white collars.
Better yet? He's done Stormtrooper and T-800 leggings as well.
Balenciaga Spring 2007 Ready-to-Wear Collection [Style] (via Neatorama)
Read More