Boogeyman Scares up a DVD Sequel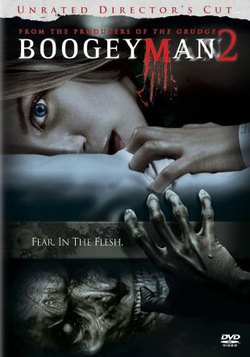 Unlike the shapes that shift in the darkness or the creaking door that haunts us in bed, 2005's Boogeyman was short on the scares. But that didn't stop Hollywood from churning out the straight-to-DVD sequel that goes on sale today. With none of the original's principal players back for Boogeyman 2, the returning producers, Sam Raimi and Robert Tapert of Evil Dead fame, tapped Saw series front-man Tobin Bell this time around.
The clip on Amazon suggests a camp factor that might just be through the roof. DVD releases are a saving grace for horror film sequels: Die-hards get a followup; the rest of us are spared a theatrical release. This particular bare-bones DVD is an "Unrated, Director's Cut" which is kind of funny since there's been only one "cut". Guess they're scared the Dolby Digital soundtrack and subtitles weren't enough to drum up an audience.
Read More