Bardem the Heir to Lecter, Oscar?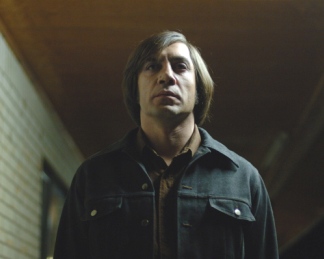 Those of you bemoaning horror movies' lack of representation among the Oscar nominations released this morning (with even Tim Burton robbed of his nod for Sweeney Todd) can take heart in this: the Academy did manage to hone in on one of the most bloodcurdling performances in recent memory, that of Javier Bardem as the psychopathic bounty-hunter Chigurh in the Coen brothers' No Country For Old Men.
Not since Anthony Hopkins got the gold for playing psycho Hannibal Lecter in 1991 have we encountered this caliber of evil. From the moment Chigurh appears onscreen, he oozes menace, his eyes blank yet noticing everything. When he speaks, condescension for humanity and utter soullessness vibrate in every soft syllable.
Whether using cattle-slaughtering techniques to cut down innocent bystanders or performing impromptu surgery on himself in a motel bathroom, Chigurh is completely emotionless and single-minded as he gruesomely eliminates his targets like a real-life Terminator. It's too bad he and Lecter never had an opportunity to meet; if either of them survived, they'd probably become friends.
So it looks like there's a gleam of hope yet for Horror fans this year! Though Bardem has considerable competition for Best Supporting Actor, let's hope the Academy follows their primal instincts and once again coronates the killer. Too bad they don't judge by body-count– he'd be the clear winner.
Read More