Anyone Wanna Buy a Drive-In?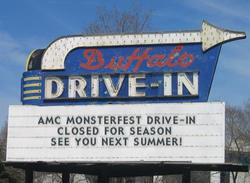 We've spoken of our love of drive-in cinema here at Monsterfest before, but now real drive-in movie lovers have an unusual opportunity to put their money where their mouth is: My friend Adam Hulin is putting his West Texas drive-in theater for sale on eBay.
It's a fully operational location in Rule, Texas, about 55 miles outside of Abilene, and can host about 200-250 cars. According to Adam, "Rule is a small town in Haskell County, but the drive-in attracts regular patrons from a 30-mile radius." The starting bid is at $37,500—much cheaper than a studio apartment in Manhattan. Start your bids!
Read More