A Complete Compendium of Lady Liberty Traumas in SciFi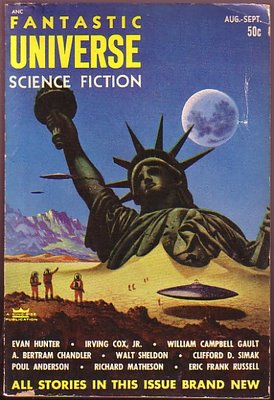 Few scifi film images are as iconic as the Statue of Liberty lying shattered on the shoals of Ellis Island, torch still outstretched. The most iconic of all is probably the destroyed Lady Liberty of a post-apocalyptic earth maggoty with monkeys in Planet of the Apes. But there are others: the submerged Liberty of A.I., the decapitated Liberty from Escape from New York and — most recently — the Liberty who gets her block knocked off in the opening minutes of Cloverfield.
It's a cliche, but a cool one that especially resonates post-9/11. Over at Gerry Canavan's blog, he's put together a great look at all of the distressed Lady Liberties of scifi: headless, disemboweled, frozen, chopped up, buried alive, drowned, nuked, vaporized… Hell, you name it. In fact, looking over the gallery, it becomes clear that Lady Liberty is possibly the most consistently harried and abused woman in all of cinema. The only thing that hasn't happened to the poor green girl is a rape by Godzilla.
Look On My Works, Ye Mighty, And Despair [Gerry Canavan] (via SF Signal)
Read More