2008 Pulp Sci-Fi Calendar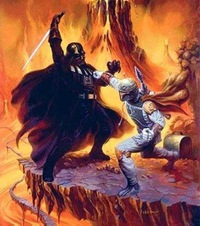 New Year's Eve reminds us how we hurtle towards the future with a terrifying velocity. Yes, this future is hopefully filled with jet packs, sensuous belly-dancing Venusian women, and phallic rocket ships smashing their fiery way through the stratosphere, but it's also potentially filled with robot uprisings, alien overlords, and humans spontaneously evolving into freakish-looking beings.
Every year, the Website at the End of the Universe is pretty good at putting together a calendar that advises us of the potential dangers we face in the new year. Each month features a phenomenal pulp sci-fi cover, and all major sci-fi authors birthdays are marked on each sheet. This way, you'll never forget to send, say, Arthur C. Clarke a cupcake. Better yet, it's free!
Finally, something to replace my 2007 Wall Calendar, "Amazing Frogs," which was a good calendar, but fairly misleading: a good many of last year's models are clearly toads.
Welcome 2008 with the Website at the End of the Universe's free downloadable calendar [Website at the End of the Universe]
Read More