Will Smith Produces "Monster Hunter"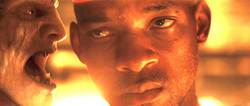 Will Smith seems to be all about monsters these days. He battles millions of them in this week's I Am Legend, and now Bloody Disgusting reports that the two-time Oscar nominee is producing Monster Hunter, a comedy starring his Hitch co-star Kevin James. (David Dobkin of Fred Claus directs.) James will play a psychologist who can actually see the monsters under children's beds.
Admittedly, the premise sounds like Monsters Inc. meets The Sixth Sense, but I can see James excelling in this part. If you've ever seen his stand-up act then you'll know James can be infinitely smarter and edgier than what you've come to expect from The King of Queens; the guy does the lovable schlub thing well, but he deserves an opportunity to do something with more bite.
Monster Hunter is awaiting the end of the writer's strike so further work can commence on the script. That means it should be in theaters by around, oh, 2012.
Read More