Will "Hatchet" Sharpen Its Vision With a Sequel?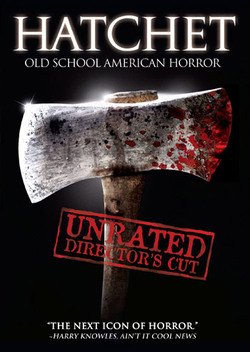 Hatchet tends to split horror fans in two—one camp considers it a successful return to 1980s slasher flicks; the other side calls it a bastardization of a modern subgenre. Regardless of how you feel, director Adam Green clearly cares enough about his movie not to let it tread the second-rate sequel path that so many slasher films hobble down. According to Green, if he's going to do a Hatchet follow-up, he's going to do it right. "I hope to do Hatchet 2," Green told Fangoria. "But it all comes down to when it happens and if I'm available, as well as what the terms are, because often when they make these movies and realize they have a cult following, they try to cheap out in a lot of areas."
Since the mixed success of Hatchet, Green has been approached to helm several remakes—everything from a new Children of the Corn to a new Silent Night, Deadly Night. Yet he's turned every one down. And if he has his way, Hatchet 2 would go out of its way to best the original, not simply imitate it.
"I have had a lot of people ask me if Victor Crowley really died or if he is a ghost or the undead. I left all of that ambiguous so that if there is a sequel, it will be its own film and not just Victor Crowley killing people again. We will go into the back story with the next movie," Green said. Sounds like plans are already in the works.
Read More