What You May Find in "Lost"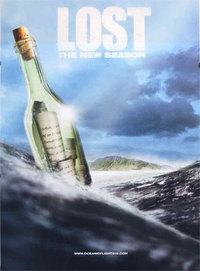 Despite the WGA strike, Lost continues to soldier on, with an abbreviated eight episode fourth season due to start in February and hopefully a season five pick-up in late 2008. What does the future hold for the buff, sexy superstars prancing around in their underwear on ABC's update of Lord of the Flies? Executive producer Carlton Cuse has dropped some details about what's coming.
The skinny: yeah, Walt's coming back, but probably not in the fourth
season. Cuse's cryptic comment: "You're going to have to be patient.
Sorry."
Many Lost fans have been wondering how this was going to be handled, since Malcolm David Kelley has aged four years in a series that, to date, has only lasted 100 "real" days. Cuse has a couple of clues: First, we're going to start seeing narrative flash forwards in the coming season, and there may be a large jump in narrative time between season four and five.
Personally, I welcome the time shifts. Lost has always seemed like a riddle in search of an answer, and fast forwarding will give a stronger structure to the remaining episodes.
Lost Answers Offered [SciFi Wire]
Read More