Vampires in "I Am Legend" Are Ugly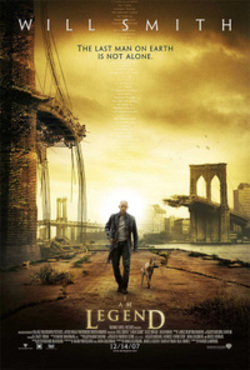 When Richard Matheson penned I Am Legend in 1954, he probably never imagined that after 50 years and two underwhelming adaptations, over $150 million would be spent on bringing his lonesome, vampire-infested apocalypse to the big screen. Or that fans of his novella would continue to protest that they'd yet to see a version that faithfully captures the ghastly intelligence of his work.
For now, Matheson will have to settle for the love of the masses. I Am Legend pulled in a record $76,000,000 its opening weekend, becoming the greatest December release in history and affirming Will Smith's position at the top of the heap—not to mention offering New Yorkers a crowd-pleasing worst-case-scenario to tide them over until Cloverfield debuts next month.
In the movies, vampirism is always portrayed as a dreadful
affliction—but just how intolerable (or even problematically desirable)
that curse may be varies greatly depending on where you look.
Supernatural powers and heightened sexual prowess often seem like fair trades for
ravenous hunger, complexion problems, and a vulnerability to garlic.
But the afflicted creatures in I Am Legend have sprouted from the homelier side of the family tree; those teen dreams of The Lost Boys
or Interview With a Vampire would hardly call Will Smith's nemeses their kissing cousins. Score
one for the uglies.
Read More