USA Sends "The 4400" to "The Dead Zone"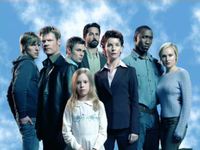 The WGA Strike is killing off good sci-fi shows left, right, and center. The excellent time-traveler show Journeyman has bitten the dust. Battlestar Galactica is rumored to follow. And now USA has canceled two more genre shows: the abduction sci-fi drama The 4400 and The Dead Zone.
Officially, the reasons for canceling both shows are low ratings and USA's wanting to open up a chunk of time to air some new shows. I'm not really terribly disappointed about The Dead Zone slipping over into its titular dimension, although I do have to wonder what Anthony Michael Hall will do for work now.
But The 4400's cancellation is a bummer. It was a smart show, despite its tiny budget. They took a premise that reeked of X-Files and spun it on its head by making the abductors human, not a bunch of slimy grays hovering invisibly over the United States in their shimmering flying saucers. I'm sorry that the mystery will never be solved, but that's a disappointment I'm all too used to in episodic sci-fi television.
USA Cancels 4400 and Dead Zone [SF Universe]
Read More