Ultimate Battle #18: Monkey Vs. Robot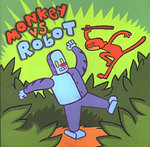 Did you know that the first Alien Vs. Predator movie was written by a first-time screenwriter? He wrote an unauthorized spec script, without getting the rights to Alien or Predator . Know what else? He based his script on the Dark Horse comic book of the same name and sold the script to 20th Century Fox. But today I want to share another epic battle spawned from a comic book.
In 2000, indie comic-book guy James Kochala published a graphic novel titled Monkey Vs. Robot. The legendary struggle was set to music and later turned into a low-budget music video, featuring Andy Samberg (the guy who would go onto make Saturday Night Live viral videos like "Lazy Sunday"). The flick was a hit at the Slamdance Film Festival and became a favorite on their DVD compilation.
But is it a short horror film or a music video spoof? See for yourself here.
Read More