Tribbles to Coo in "Star Trek XI?"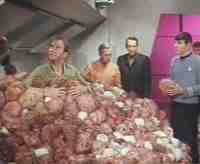 The scourge of planet Klingon. One of the Federation's most feared life forms. A galactic plague that will swarm across planets, devouring anything in its path. The fuzzy, cuddlesome Tribble!
Reportedly, the "Trouble with Tribbles" was one of Gene Roddenberry's most loathed episodes in the original series, but the little alien muffs have cooed their way into the average Trekkie's heart. A hat tip by J.J. Abrams to the Tribble contingent was to be expected.
And now rumor has it that it's a reality. According to TrekMovie.com, which has a superlative record on accurately reporting Star Trek XI rumors, the adorable space rats will show up in the prequel. It's a cameo—a Tribble in a cage in the background of a scene—but it's sort of nice to see the updated Star Trek make a nod to the series' most lamely lovable alien.
A Tiny Christmas Spoiler for the New Star Trek [Trek Movie]
Read More