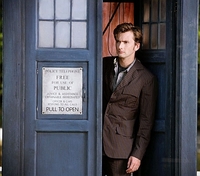 To quote The Usual Suspects, "a rumor's not a rumor that doesn't die." But in the nosy, busy-body trade of media sleuthery, a rumor never dies, and especially not this one: The persistent gossip that the fourth season of Doctor Who will be David Tennant's last.
Sure, the rumor died down for a while, but the Doctor's newest companion, comedian Catherine Tate, injected it with revivification juice when she commented to BBC Radio 2 host Jonathan Ross last week that: "I think it's maybe David's last series."
No confirmation from the BBC yet, and maybe she's just parroting the rumors we've all heard, but with a year hiatus after the fourth season of Doctor Who to accommodate Tennant's tenure with the Royal Shakespeare Company, it makes just as much sense as it ever did. I hope it's not true, though, not just because I like Tennant, but because they really are grinding through the Doctor's thirteen regenerations at an alarming rate these days. Sure, when they come to number 13, they'll pull the deus out of the machina, but I'd rather put that off for another couple decades.
Tennant is leaving Doctor Who [BBC]
Read More