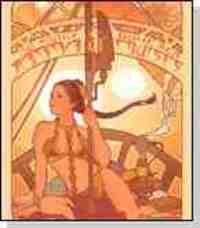 The last two weeks in December are a great time for collating and ranking the minutiae of fandom. The Christmas season itself offers a panoply of opportunities for the blogger to give the world his top ten choices for gifts suitable for fellow enthusiasts of a crazily over-specific niche; New Year's, on the other hand, allows the same blogger to hand down that year's "Best of…" list like Mighty Yahweh did the Ten Commandments.
On that note, starwars.com has released its year end list of the top ten Star Wars moments of 2007. It's a good list: Boba Fett hoodies! The spontaneous transmogrification of 400 mailboxes into R2-D2 simulacrums! Life-sized Slave Leia Real Dolls! And Samurai Vader!
Star Wars: The Best of 2007 [Star Wars dot Com]
*Which, if you think about it, is sort of a crazily over-specific top ten list itself, written by the Universe's ultimate blogger.
Read More