The Top 10s of Sci-Fi Authors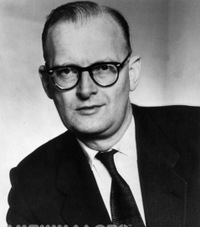 If you were to waylay Arthur C. Clarke at a convention and, jabbing him in the middle of his sternum with your finger over and over again while making crazy eyes at him until he got scared enough to answer, asked him, "What are your ten favorite science fiction films?" what might he respond just to get out of that awkward situation? For that matter, what would other sci-fi greats like Robert Bloch, Frederik Pohl and John Carpenter say?
Well, in 1994, years before millions of Digg users made the top ten list the only form of critical analysis worthy of intellectual scrutiny, Doug Lombardi pinned down some notable sci-fi luminaries and got them to give up their own personal lists. Those answers are now available online, with a minimum of CSS or Web 2.0 stylistic flourishes, and they're pretty great.
I'd like to single Arthur C. Clarke out for scrutiny, because his list is pretty funny. His top ten contains no real surprises, but becomes rather eyebrow arching when he includes his own movie, 2001, among a list of the greatest sci-fi films ever made. Not that I necessarily disagree, but I'm not sure whether to applaud him for jettisoning the false humility or criticize him for it. But then Clarke decided to expand the list by about five or six spots and said that he thought Return of the Jedi (but not Empire Strikes Back), Dune and Star Trek VI all ranked up there with Metropolis or Alien. Oh, Arthur! Been licking the Monolith again, have we?
Best SF Films [NTU.edu] (via SF Signal)
Read More