The Tempestuous Interspecies Love Affairs of Charlton Heston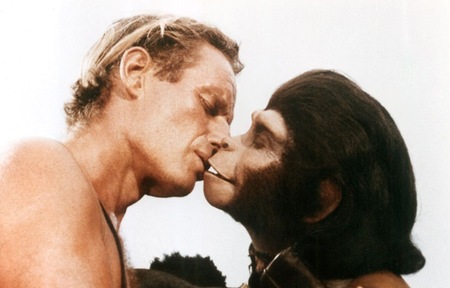 Charlton Heston, that rugged, post-apocalyptic He-Man has no compunctions about writhing his tongue around in the mouth of an anthropomorphic ape, and perhaps no other actor in Hollywood history made out with as many monkeys as him. And why not? With that much chest hair, Mr. Heston was practically a monkey himself.
To celebrate the filthy monkey lover, my corporate mothership has declared New Year's Eve Planet of the Apes day, with a round-the-clock schedule devoted to that dystopic universe.
And while you're there, why not check out the following fantastic gallery of Charlton Heston sci-fi moments, from the Planet of the Apes films to Omega Man and from Soylent Green to the Outer Limits. Never has one thespian's barrel-chested presence so easily raised a gaggle of otherwise cheesy films into undisputed greatness.
Charlton Heston: the Uncrowned King of SciFi [Future of Classic]
Read More