The New Blood of "X-Files 2"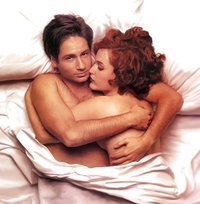 Fox Mulder and Dana Scully may well have been roaming in the New Mexican desert for the last six years—their time on the X-Files having reduced them to paranoid wrecks held together by a convoluted jumble of conspiracy theories.So how is 2008's X-Files 2 going to pick up their story? By bringing back Mulder and Scully to train a hot new generation of supernatural FBI investigators.
Or so is the speculation. The cast of X-Files 2 has been revealed to include Jack and Jill cutie Amanda Peet, drunken Irish comedian Billy Connelly and Pimp My Ride's head automotive pimp, the implausibly-spelt rapper Xzibit.
It's hard to tell what they'll be doing, but my guess is that Connelly is the wild-haired crank in a Tennessee trailer park, raving about the anal-probing conspiracy. Junior FBI Agents Amanda Peet and Xzibit are assigned to the case, but soon find themselves over their heads, so in come Mulder and Scully to show the new blood how to investigate a real X-File. Sounds just stupid enough to be sort of fun, doesn't it?
New Casting for X-Files 2 [Cinematical]
Read More