The First Review of "I Am Legend"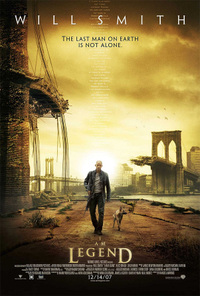 I've been full of trepidation about I Am Legend from the start. No previous Hollywood adaptation had ever managed to pull it off. Both Vincent Price's Last Man On Earth and Charlton Heston's Omega Man stood vampire pale before the deeply psychological glory of Richard Matheson's novel. Only George Romero's Night of the Living Dead came close to capturing the horror of living, purposeless, in an emptying world.
Early details about I Am Legend didn't make me any less worried. Although I like him, Will Smith's casting concerned me: Not only is his record as a Michael Bay style action star spotty at best, but the fact that they cast him as the titular last man on Earth made me really concerned I was in for a heavy-handed racial allegory. Recent comments by the screenwriter clinched it, when he said they needed to change the ending. The ending of I Am Legend—which gives its title meaning—is the majesty of the book. The filmmaker's admission that we should consider it an adaptation of Omega Man (an utterly cheesy movie best forgotten) as much as it is of Matheson's novel didn't bode well either.
I won't know for a couple weeks whether or not I am right to be wary, but if this review of an I Am Legend press screener is anything to go by, it sounds like I am. To be fair, they liked the movie, but they say it has two significant problems: The vampires are all CGI and the ending is ridiculous. I can deal with bad CGI, but trashing the ending is a death sentence in my book, and apparently in the book of the IESB, too.
Movie Review: I Am Legend [IESB]
Read More