The First Church of Galactus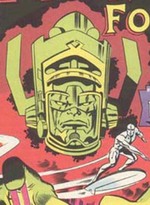 Last week I posted about comic book characters and their religious beliefs. This week I'm writing about a religion based on a comic book character. The always entertaining Positive Ape Index proposed a brilliant (albeit blasphemous) idea: The First Church of Galactus. The argument plays out over four key ideas that are essential to any major religion.
1. All religions need a God.
2. All religions need a good story.
3. You can't have a religion without an apocalypse.
4. All religions need a bad guy.
Jeff Rovin's essential reference book The Encyclopedia of Super-Villains distinguishes the Tyrant from typical bad guys, writing that Galactus is not inherently evil…rather he is a Cosmic Being who craves energy.
Sounds pretty God-like to me.
Read the complete Positive Ape Index essay then decide for yourself.
Read More