The Dragonriders of Pern Come to Hollywood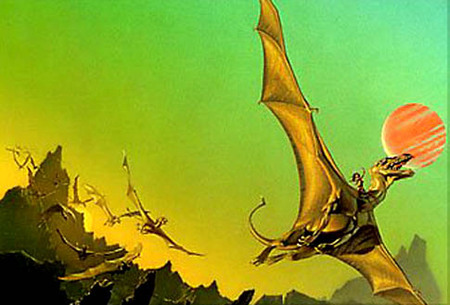 Many sci-fi and fantasy series of novels go on far, far too long. Is there any real reason that the Wheel of Time series is ten times longer than The Bible? Why must every good idea for fantasy or science fiction become an endless "cycle?"
The reason's obvious: It's capitalism at work. But perhaps no other series of novels indicates how good a series can start off when a writer simply has a self-contained story to tell and how badly it can end when it somehow becomes a franchise than Anne McCaffery's Dragonriders of Pern series, which details the adventures of alien exiles fighting the Thread, a mycorrhizoid spore that can destroy all life on their planet. The first three novels in the Dragonriders of Pern series are pretty good. The next seventeen novels? Not so much.
That being said, where Anne McCaffery has proven to be remarkably undisciplined in actually wrapping up her story, she has—until now—at least been staunch in not selling the rights to Hollywood. All that's changed suddenly, with the sale of the Dragonriders of Pern license to Copperheart Entertainment and Academy Award Winning producer Steve Hoban.
I know I seem snarky, but I actually welcome this: I'd love to see a smart cinematic trilogy of the first three novels. But Hollywood, please stop it there.
Pern Novels Picked Up By Copperheart [Slice of SciFi]
Read More