"The Day the Earth Stood Still" Hamms It Up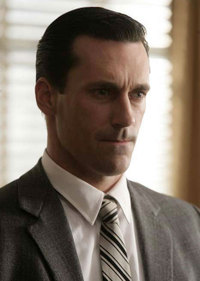 Here in the pulsating hive of AMC, we're all pretty proud of Mad Men…even those of us at SciFi Scanner who might be expected to eschew a show about a 1960s advertising agency for something involving spaceships and ray guns.
But now we're especially delighted to have finally figured out a way to spin our fondness for the show into something genre-related: Leading man Jon Hamm has been cast in the remake of The Day the Earth Stood Still.
Hamm—who plays Don Draper—will take on the role of Dr. Granier, a NASA official who recruits Jennifer Connelly for the scientific team investigating the arrival of Klaatu the Alien (Keanu Reeves).
In some ways, I'm pretty skeptical about Keanu Reeves' ability to embody the messianic extraterrestrial but Hamm's addition can only help. Sock it to them, Jon!
The Day the Earth Stood Still Gets Hamm [Bloody Disgusting]
Read More