The Bloody Truth About "Sweeney Todd"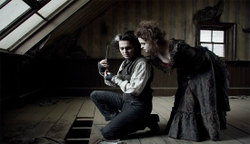 Tim Burton's Sweeney Todd: The Demon Barber of Fleet Street (which opens next Friday, December 21) is a horror movie in the tradition of Hammer and the likes of Richard Gordon's Corridors of Blood. As such, it's one of the goriest major studio releases in a while, never mind one that's also a big budget Hollywood musical. If you're expecting the cute thrills of Little Shop of Horrors then you've come to the wrong theater.
Although it debuted in 1979, Stephen Sondheim's musical seems tailor-made for the Burton esthetic as the director's Gothic sensibility suits the composer-lyricist's equally heightened sense of stylization to a T. In terms of visuals, no one else could have done justice to this material like Burton. But what's even more exciting is that, as a character piece, Sweeney Todd proves Burton's richest work since Ed Wood . Starring Johnny Depp, Helena Bonham Carter, and Alan Rickman, Burton's tuneful grand guignol is as much a benchmark for its performers as it is for the director himself.
Read More