Terry Pratchett Has Alzheimer's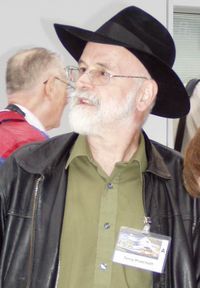 Terry Pratchett (the beloved fantasy and sci-fi author behind the Discworld series) has written an open letter to his fans, and it's pretty awful stuff: Pratchett has Alzheimer's.
From Pratchett's chipper and genuinely moving note to his fans:
"I would have liked to keep this one quiet for a little while, but because of upcoming conventions and of course the need to keep my publishers informed, it seems to me unfair to withhold the news. I have been diagnosed with a very rare form of early onset Alzheimer's, which lay behind this year's phantom "stroke."

We are taking it fairly philosophically down here and possibly with a mild optimism. For now work is continuing on the completion of Nation and the basic notes are already being laid down for Unseen Academicals. All other things being equal, I expect to meet most current and, as far as possible, future commitments but will discuss things with the various organisers. Frankly, I would prefer it if people kept things cheerful, because I think there's time for at least a few more books yet :o)"
There can be nothing sadder than when an intellect that has given joy to millions of people around the world is slowly drained… not by the natural process of an author steadily draining themselves of ideas, but by the wasting debilitation of a mental disease. But it's hard not to have your courage plucked when the author in question is so cheery and upbeat about it. Even if you're not a Pratchett fan, his attitude in all of this is worth all the respect you can give him.
Pratchett Has Alzheimer's [Paul Kidby]
Read More