Stephen King Comes Second to "The Signal" Trailer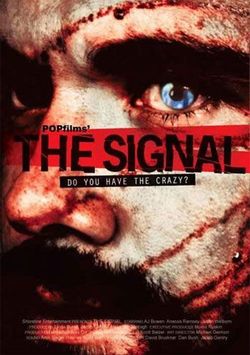 It's not hard to imagine a scenario in which a baffling transmission starts turning all who hear it into murderous psychopaths—radio stations have been playing Christmas music for months, and I'm about halfway there myself. The Signal, however, is not a cautionary tale about the power of Mariah Carey's "All I Want For Christmas." It's one of the first horror movies out of the gate in 2008, and based on reports from Sundance and a look at the new trailer, each of its three directors have packed in enough unexpected laughter, suspense, and violence to keep us warm until spring.
That's right, three directors: David Bruckner, Dan Bush, and Jacob Gentry. Each of them has tackled a single segment of the film; each part is told from the perspective of a different character trapped in a city whose airwaves are taken over by a bizarre signal that inspires a bloodlust.
If you think this sounds a mite familiar, you're not just hearing things. Stephen King's 2006 novel The Cell had a really similar plot. (In the book, the transmission came only over cell phones.) There's not really any connection between the two, however: The Signal was already in production when King's book came out, and any eventual big screen adaptation of the latter will have to deal with the accusation of being imitative. In the meantime, I bet even King himself will have a hard time resisting this one—and taking notes.

Read More