StarTrek.com Killed off by CBS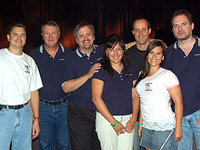 Let's say that you are a major media company that owns one of the top two sci-fi franchises beloved the world over. The franchise in question is such a big deal that wikis are dedicated to keeping track of the characters, the ships and the historical events of its universe, not to mention its six television shows and eleven movies. Now let's say that you are preparing to relaunch the franchise in 2008 with one of the most widely anticipated sci-fi films of the year. What do you do?
Well, if you're Paramount, you'd fire everyone at the official site, StarTrek.com, and let the domain and content rot. Smooth.
According to the press release issued by StarTrek.com, all the writers, editors, web designers, and programmers who work at the official site have been canned by CBS Interactive after an internal restructure, effective immediately. This basically kills off a site that has been going strong since 1994. As a parting gesture, the staff has invited anyone who has comments on the upcoming movie to write editor@startrek.com, then wryly quipped: "We hope someone at CBS will read them."
Look, web writers have projects come abruptly to a close all the time. It's one of the risks of the trade. So while I have a certain professional sympathy for the guys at StarTrek.com, that's not my real beef here. But to kill off the domain with J.J. Abrams' Star Trek XI just a year away? How utterly boneheaded.
Goodbye from the STARTREK.COM Team [StarTrek.com]
Read More