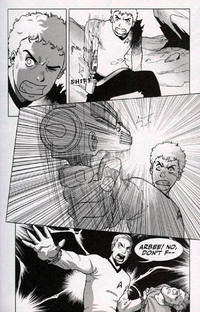 Ah, Japan! With your affinity for bright, cheery bobble-headed hydrocephalics, is there any Western property you can't adorably manga-fy?
First there was the Star Wars manga, a happy and hallucinogenic Japanese comic adaptation of the original trilogy. (The Wikipedia entry notes wryly that, while the manga version is more or less faithful to the films, "when Leia kills Jabba, he pukes more). It was probably only natural, then, that Tokyo Pop—an American manga publisher—would adapt the other half of sci-fi's central dichotomy to be suitable for the aesthetic sentiments of the modern day salaryman: Star Trek: The Manga.
Over at Sci-Fi Japan, they have an excellent review of the backwards-reading monochromatic volume, and it sounds quite interesting. The first story in the volume, entitled "Cura Te Ipsum," has the distinction of being an episode written about the crew of the original series by none other than Wil Wheaton, Mr. Wesley Crusher himself… a man who has earned my respect for turning the early Internet's near universal revulsion for both him and his character into a small cult following of geeks. Wheaton's tale is described as being a traditional prime directive story that manages to pull itself up far above its predictable pedigree. Good going, Ensign Crusher!
Book Review: Star Trek: The Manga [SciFi Japan] (via SF Signal)
Read More