Spend Xmas Eve with Aliens and Predator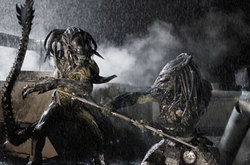 Would you prefer spending Christmas Eve with monsters that you're not related to? Twentieth Century Fox has just made your day. To satisfy the anticipatory pleasure of its December 25th release of Aliens Vs. Predator: Requiem, Fox is holding midnight screenings the night before in NYC and LA. The Los Angeles screening will be held at Hollywood's Grauman's Chinese while its New York counterpart takes place at the Regal Union Square 14.
But what's Christmas without presents? With that sentiment in mind, the first 100 people in line will get a "I Survived Midnight Mass-acre Christmas Eve 2007" T-shirt. Whether you get a souvenir or not, please be especially nice to the staff since this is a night when many movie theater ushers and ticket-takers have off.
Read More