Shatner Could Surface in "Star Trek XI"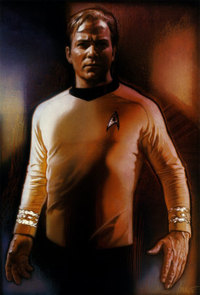 For a man who has based the entire latter half of his career on making fun of himself, William Shatner did not react stoically to the news that he would not have a cameo in J.J. Abrams' Star Trek XI. Imagine a limp raspberry balloon with T.J. Hooker's face drawn on in magic marker, rapidly filling with helium until its valve escaped from between pinched fingers then went sputtering around the room: You now have a good metaphor for The Shat's humorless reaction.
On the one hand, you can't blame the man for feeling left out when Leonard Nimoy is reprising the role of Spock. On the other hand, Kirk is exiled to another dimension after Star Trek XI. Unless they install an inter-dimensional hotline between Spock's Retirement Castle for Vulcan Dignitaries and the Nexus, it's hard to bring him in for a bit part no matter how small. Still, Shatner's chances shouldn't be ruled out.
According to Trek XI screenwriter Robert Orci, all hope isn't dead: They just need to figure out how to do it. More over, they want to do it. That said, Orci warns that if the WGA strike doesn't end soon, Shat's cameo is improbable since nothing new can be written for the film until then. At the rate the WGA Strike is progressing, that sounds like shorthand for "fat chance."
Shatner Trek Cameo Possible? [SciFi Wire]
Read More