Shameless Video Knock-Off: "I Am Omega"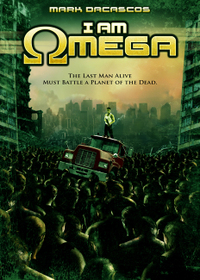 There is a long history of cheesy knock-offs of popular Hollywood sci-fi flicks. I remember, as a 12-year-old, breathlessly going to a midnight screening of the Roger Corman produced Jurassic Park copycat Carnosaur… a film which, in retrospect, gave me a lot more pleasure than the official version ultimately did.
Heck, I've got an affinity for cheesy rip-offs. I liked Plane Dead (with zombies) more than Snakes on a Plane; I thought Transmorphers was easily just as stupid as Transformers; and Aliens Versus Hunters struck me as a hilarious attempt to capitalize on not one, but two major franchises without any of the big budget special effects.
Unsurprisingly, all of these films were released by the same
company, The Asylum, a studio which specializes in making cheap,
direct-to-DVD knockoffs then times their retail release to coincide
with the precise moment of their inspiration's box office explosion.
The Asylum's latest is I Am Omega, a cheap imitation of I Am Legend that takes a titular bow to Charlton Heston's The Omega Man (and
even steals some of the latter film's scenes wholesale). According to
the Cinematical review, it's stupid, but not too shabby, and may, in
fact, be just as faithful an adaptation of Richard Matheson's novel as
the Will Smith version. I'm sure I can add this in good conscience to
my Netflix queue.
I Am Omega [Cinematical]
Read More