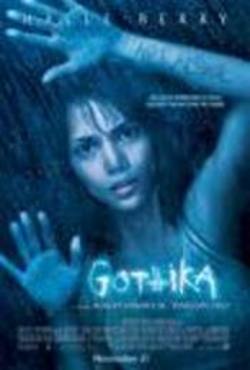 When Halle Berry won an Oscar for Best Actress in Mons ter's Ball, she became the first African-American actress to do so. With her next film Die Another Day, she became the first actress to star in a Bond Film after winning an Oscar. Then, unexpectedly, she made the horror movie Gothika.
It's not that other Oscar-winning actresses haven't starred in fright
flicks but usually they do it to jump-start a career not right after
they've arrived. Imagine Sissy Spacek starring in Carrie as a follow up to her Oscar-winning performance as Loretta Lynn in Coal Miner's Daughter.
It's not often you hear an actress say, "At last. Now that I've got an
Academy Award, I can get the horror film roles that I've been longing
to play!" And yet, here is Halle Berry in Gothika with a supporting cast that includes Robert Downey Jr. and Penélope Cruz. What gives?
Sometimes this movie is labeled as a "psychological thriller" or a
"supernatural thriller," making it sound a little more upscale, but Gothika
really is just a horror film and plenty enjoyable as such. The film
is produced by Dark Castle Entertainment, makers of such well-known
chillers as The House on Haunted Hill , 13 Ghosts , and Ghost Ship.
But don't be fooled by the all-star cast into thinking there's
something deep to follow. Just get the popcorn and the soda then enjoy
the spooky style and scare tactics.
Gothika plays tonight Thursday, December 27 at 8 p.m. | 7 C on AMC.
Read More