Sci-Five: Classic Shows to Watch During the Strike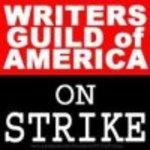 Supporting the Writers' Strike doesn't necessarily mean watching bad reality TV in the weeks ahead. Instead, this is probably your opportune time to catch up on classic shows currently out on DVD—even if the writers won't get a piece of the profits. Here are my picks in no particular order.
1. The Prisoner (1967)
This is one of those shows that is more fun to have watched, than to actually watch. But looking at it now you can see its influence on hits like Lost and Burn Notice. (Yeah, I like Burn Notice.)
2. V: The Series (1983)
Before the miracle of DVD, I bought bootleg VHS tapes of this entire series on ebay. But I couldn't get through the first tape because the picture and sound were so bad. (Damn you, seller ellenstvclassics!!)
3. Futurama (1999)
In the late '90s, I actually had a social life, so I missed the original broadcasts of Futurama. Now's my chance to get acquainted with the gang. You should too.
4. Kolchak: The Night Stalker (1974)
Was there actually a time when people were sincere about being abducted by UFOs or molested by Bigfoot. Fans of the X-Files should check out this precursor in which journalist Carl Kolchak (Darren McGavin) investigates strange occurrences. (Note: The story editor was Sopranos creator David Chase.)
5. Buffy the Vampire Slayer(1997)
You don't need a writers' strike to enjoy episodes like "Conversations with Dead People" or "The Zeppo." It's always a good time to re-watch Buffy.
Read More