Santa's Reading List: The Last Christmas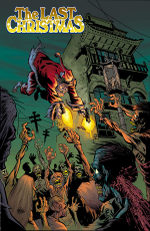 When people think of St. Nick and Science-Fiction, most think of Santa Claus Conquers the Martians. But this year, I urge you to check out Image Comics' The Last Christmas, a very graphic graphic-novel that tells the post-apocalyptic tale of a gun-toting, ass-kicking Santa Claus who helps a group of children battle an army of zombies. As if the idea alone weren't enticement enough, the story is co-authored by Brian Posehn from HBO's Mr. Show, The Comedians of Comedy tour, and the CD Nerd Rage.
The book is a delightful combination of The Road Warrior's future and the Santa Claus myth. It's funny, explosive, and nice to look at. And for the fuddy-duddies who actually want a sweet story, it's a tale of redemption as well as revenge.
The Last Christmas is currently being optioned for the big screen but until the film's released, why not return that ugly Old Navy fleece pullover and use the $14.99 to buy a graphic novel more in touch with your style. Treat yourself!
Read More