Richard Matheson: Recommended Reading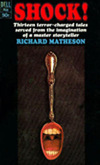 The success of I Am Legend has sparked a long overdue Richard Matheson renaissance. For while his excellent fiction has often been collected in various anthologies, sometimes it's been reprinted in cheap little books like the one pictured here. (Yes, that's a spoon with a screaming mouth. What it has to do with the contents is anyone's guess.)
As a serious introduction, your best bet may be Edge Books' Richard Matheson: Collected Stories. The three-volume set spans his short-story writing career from 1950 to 1971. Re-published in 2003, it features a number of tales that would go on to become classic episodes of The Twilight Zone: Death Ship, Long Distance Call, Little Girl Lost and Steel (which made for the author's favorite adaptation).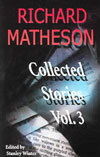 The books also feature a piece that would serve as the basis for Steven Spielberg's Duel (not one of that director's better known films) and a hilarious drama about a beauty pageant that eventually made the jump from the page to the small screen via Amazing Stories. As an added bonus, each story concludes with a brief commentary by Matheson while appreciations from the likes of Harlan Ellison, Stephen King, and Ray Bradbury are peppered throughout.
If you liked I Am Legend, the original novel will blow you away. (And unlike the movie, the title will actually make sense!) It's definitely worth checking out. Need visuals? Then read the graphic novel that was adapted by Steve Niles & Elman Brown.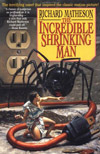 The 1956 novel The Shrinking Man (which the author later adapted for the big screen as The INCREDIBLE Shrinking Man ) is a powerful novella that is much more than a sensational gimmick: It's a reflective exploration of what it means to be a man in the 1950s. Plus, there are some great scenes with a giant spider.
If you want to read some of his non-sci-fi writing, pick up The Beardless Warriors. This is my favorite Matheson book. It's unlike any other war story I've encountered and concerns 18-year-olds who found themselves fighting overseas during World War II.
Read More