Remakes Make Cronenberg's Head Explode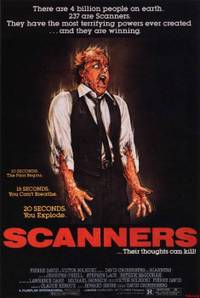 After years of being a weirdo outsider obsessed with taboo subjects such as gynecological instruments of torture and exploding heads, David Cronenberg has become something of a darling with Hollywood thanks to a series of smart, psychological thrillers that are more easily marketed than The Fly or Dead Ringers . But now, with Hollywood's admiration comes a slew of pointless, imitative remakes. But Cronenberg, God bless him, just isn't interested.
Talking to MTV about how others are doing their own versions of his earlier films, Cronenberg sighed. "I could live without it. But I don't have control over it, in general."
In the coming year, it looks like we will be seeing at least two updates of vintage Cronenberg whether he likes it or not. The first is a rehash of Scanners from The Invisible director David S. Goyer. The second is a remake of The Fly, which I suppose neither Cronenberg nor I should bemoan, considering his Fly was a remake itself. But it's pretty hard to imagine anyone improving on Cronenberg's masterpiece.
"I've heard of remakes of everything from The Brood, to The Fly, to you name it," said Cronenberg. "There's such a desire to have some kind of comfort level amongst producers, and if it's a known property [that helps]. That's one of the reasons, for example, that graphic novels are getting made into movies: They can see it. It's there. They can hold it in their hands. It maybe has a pre-sold audience, up to a certain point. So I guess it's inevitable that they'd be trolling for remakes."
Trolling for remakes. What a perfect turn of phrase.
Remakes of 'Dead Zone,' 'The Fly' and 'Scanners' Make Cronenberg's Head Explode [MTV Movies Blog]
Read More