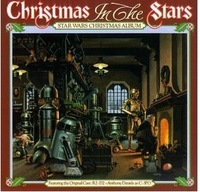 Speaking of Wookiee Life Day (which we regret to inform you is inherently unspeakable), have you ever heard of the Star Wars Christmas Album? No? Good. It means that your ear drums are unexploded. It means that you have never once sneezed out brain. It means that you do not babble in the corner of some dreary mental hospital somewhere. And so on.
If you had heard the album, you might have subjected yourself to Christmas tunes like "What Can You Get a Wookie For Christmas (When He Already Owns a Comb)" and "We Wish You a Merry Christmas" (R2D2 version). You would have been aurally trepanned.
Of course, if you are daft enough to want to hear more, click the link below. Nothing like an audio lobotomizing for Christmas. You have been warned.
The Star Wars Christmas Album [SF Signal]
Read More